Lutheran Volunteer Corp Leader September Newsletter Highlights Wilmington and Lutheran Community Services and placement Ariana Wakeman!
Wilmington Commissioning Service
The Wilmington LSC welcomed the new LVC Volunteers this month. The commissioning was held at the home of Bill and Nancy Fuson and was a delightful event! We blessed the Volunteers with a sending blessing that encourages them to begin their year with grace, hope, trust, peace and love.

The Volunteers also had an opportunity to meet their Host Families. LSC members, congregational supporters, host families and a placement supervisor were in attendance. Thank you to everyone who came out to support the Volunteers as they begin their year!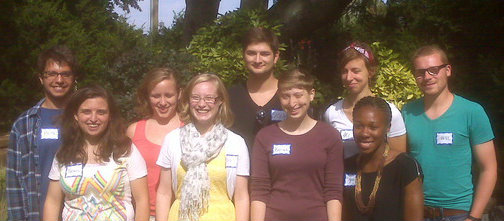 Wilmington Volunteers: Back row, left to right: Ben Arbeiter, Kristan VanDomelen, Sascha Beilert, Ariana Wakeman, Daniel Guntermann. Front row, left to right: Tamara Siburg, Maren Hopkins, Karrah Johnston, Ngozi Edeh
Volunteer and Placement Site Spotlight
Ariana Wakeman and Lutheran Community Services in Wilmington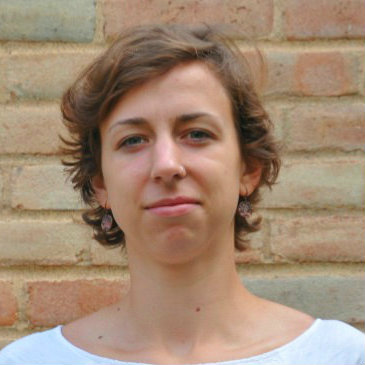 Ariana
: "I joined LVC because I believed it would provide me with valuable experience to further my career, an opportunity to give back and help others, and a chance to grow through my work and LVC's core practices.
I appreciate the opportunity to work directly with those who are affected by issues of social justice. Each person I have met has something valuable to offer the world, yet unfortunately they often do not have a voice. I really enjoy meeting a variety of people and learning from each of them.

My only expectation was that I would be put to good use at Lutheran Community Services (LCS) and that I would be able to truly serve others. I am lucky to work with such wonderful staff and volunteers. I enjoy the work I do every day, and am looking forward to continuing to learn about the program and my role at LCS.

My time at LCS has confirmed for me that I am indeed passionate about this field. Daily interactions with clients helps me to build people skills which will be important in any other social work job I may pursue. I have also been able to learn some about the ins and outs of a non-profit and have begun to establish some helpful connections.
Sandy Betley from Lutheran Community Services:
LCS has been blessed to have an LVC volunteer since 1996…that's

17 years!

The LVC volunteer provides a very needed additional pair of hands to assist with our food and housing programs. This assistance
requires both physical and emotional stamina as situations exacerbating needs are often heartbreaking and because the people in need just keep coming and coming. We have often noticed that the LVCr is able to provide a fresh perspective and some rather "outside the box" solutions to problems that we have been too busy to figure out how to address, so we highly value their input.

LCS Mission Statement of

Sharing God's Blessings by Helping Others In Need

, resonates with the core LVC principles of social justice, intentional living, and sustainability in that we are all in this world together and it is our responsibility to reach out to and care for one another and all of God's creatures and creation if we hope for the world to continue.
Welcome aboard Ari...we look forward to working with you over the next year, and we hope you look the same. We know this is going to be a great time for us both with you here!